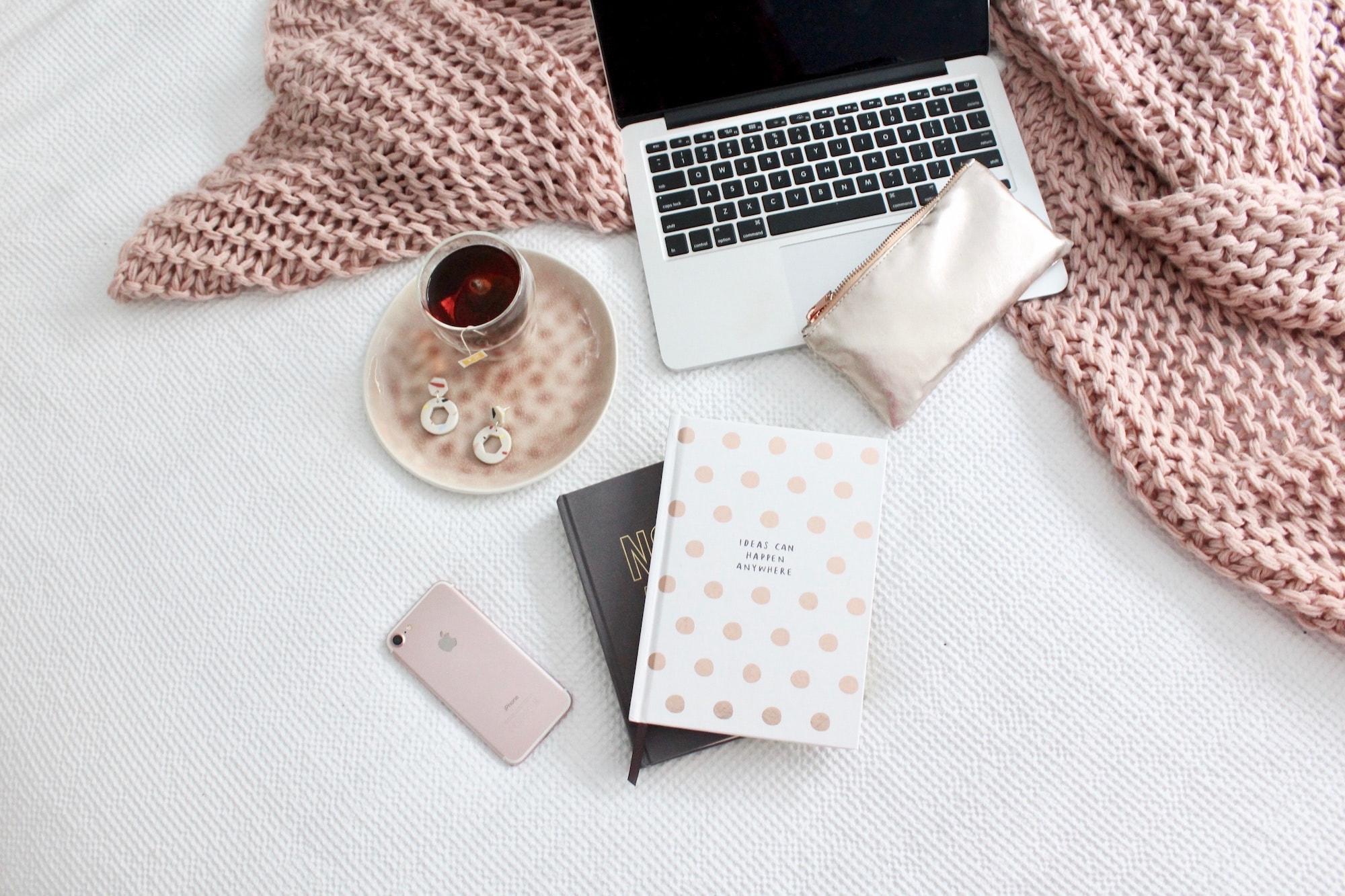 In times of social distancing, your brand might be wondering what the best way to get its products in front of consumers is. A great solution to this problem is product sampling. We've compiled a list of six product sampling ideas to keep your brand top-of-mind during social distancing and how to make your brand more memorable than ever before.
What is product sampling?
The food and cosmetic industries have made an art form out of sampling. Stores like Costco and Trader Joe's offer free samples on a regular basis and have made it part of their brand culture. Although this may be off the table for now, the idea is this: get your products into the hands of consumers and they'll be buzzing about what you have to offer.
Before You Start
Before you start sending out samples, you'll want to make sure you've identified the following:
Campaign goals
Target audience
What you'll send
How much budget you have available
How you'll track and analyze your campaign
These are your basic product sampling fundamentals. Now the trickier part is making it happen during social distancing—we'll get into that next!
Product Sampling Ideas
On a good day, product sampling is already a beast to tackle. But throw social distancing into the mix and you've added a whole new layer of complexity. Don't worry! We still have some ideas to get your product into the hands of consumers who will love (and deeply appreciate) the message.
1. Make it an open call for whoever wants to try
Remember when Spotify partnered with Google to give away free Google home minis? This is what we mean. And while we can't all give away a smart speaker, the concept remains the same. Use this idea for your brand and you'll get people who might have previously been on the fence about trying your product to give it a go!
Bringing your in-store efforts online during social distancing is becoming more and more popular. For example, Ulta Beauty and Ouidad hosted virtual 1-on-1 curl consultations with consumers to talk about all things hair! Plus, with any $30 Ouidad purchase, they were sent a sample of the hair and scalp collection.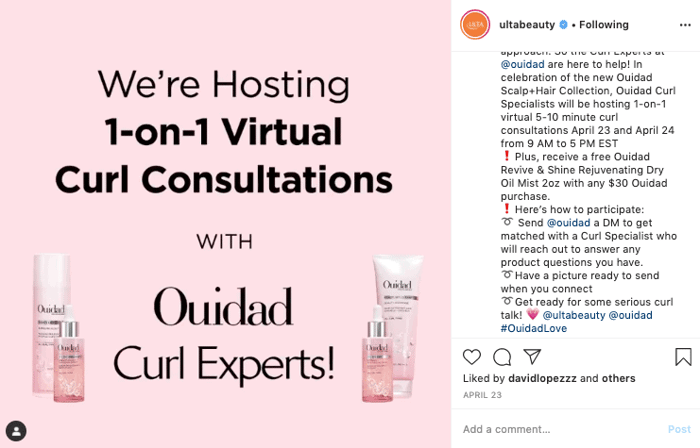 2. Give away your product to healthcare workers and other essential personnel
Now more than ever is a perfect time for your brand to spread some generosity. Tropical Smoothie did a great job of exactly that. To say thank you, they delivered 100,000 free smoothies or "Cups of Sunshine" to essential workers in the community. Hospital workers shared their thanks and it can be viewed on their social media channels here.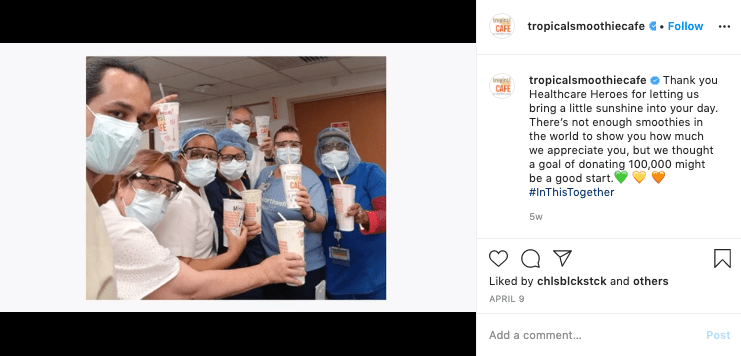 BAWDY Beauty did the same by joining forces with two other beauty brands to create a #WomenCareCollabBox. This giveaway invited their audience to nominate a frontline healthcare worker who needs their self-care moment and the brand sent out 50 random boxes to the winners!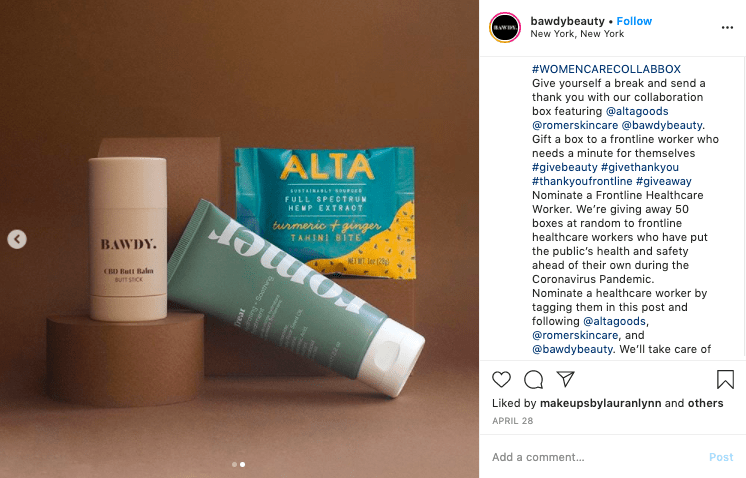 3. Create a unique hashtag to spread the word
Make your messaging clear and let recipients know what your company is doing to aid social distancing measures. Come up with a campaign hashtag that's easy to remember and true to your brand. For example, Dove has been using #CareFromDove across their marketing channels to continue to aid frontline healthcare workers and hospital staff by donating Dove products. So if you're thinking of doing the same, don't forget this important step!
4. Spotlight user-generated content on social media
Invite recipients to share on social media and spotlight some of the best user-generated content you receive from your sampling efforts. That way, you'll get more people interested in trying even without leaving their homes.
The best way to get recipients excited enough to talk about your brand online is to be memorable. Consider adding a special thank you note, free sticker or sample size of another popular product, even your packaging can be customized within reason! To learn more about driving authentic product reviews, check out this blog.
5. Partner with a charity and include product samples with any donation
Use this time to partner with a charity for a good cause and encourage fans of your brand to make a donation. With each donation, you can send out a free sample product. Another way your brand can go about this is to match any contribution customers give when they make a purchase from your site.

Peloton partnered with the Food Bank for New York City and donated $1 for every class taken using their app, bike or tread service—their community helped raise $500,000 in just one weekend!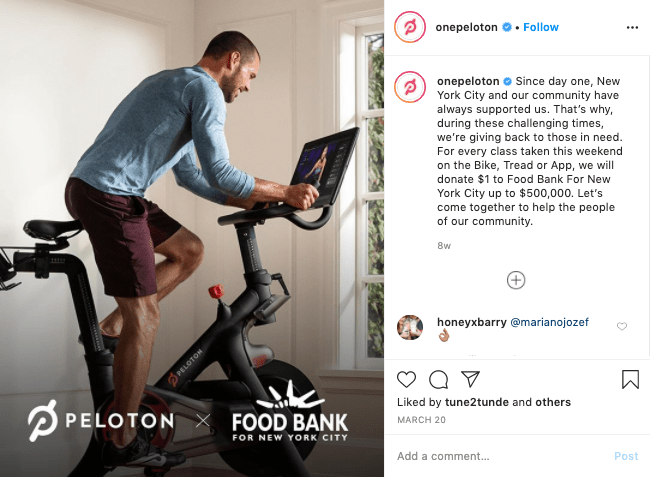 6. Use Statusphere
Whether you're looking to send your samples out to vegan bloggers or DIY-enthusiasts, Statusphere makes it easier than ever. We handle everything from influencer communication and match-making to shipping and reporting! At Statusphere, we help people discover brands they love, from people they trust.

It's safe to say that social distancing has forced companies small and large to get more creative with their product sampling ideas. Think outside the box a bit and you can get your desired product directly to consumers so they can see what makes your brand so great. (Contactless, of course.) If your brand needs help to accomplish its product sampling goals during social distancing, Statusphere can help. To learn more about how we can get your product in front of consumers, contact us here.