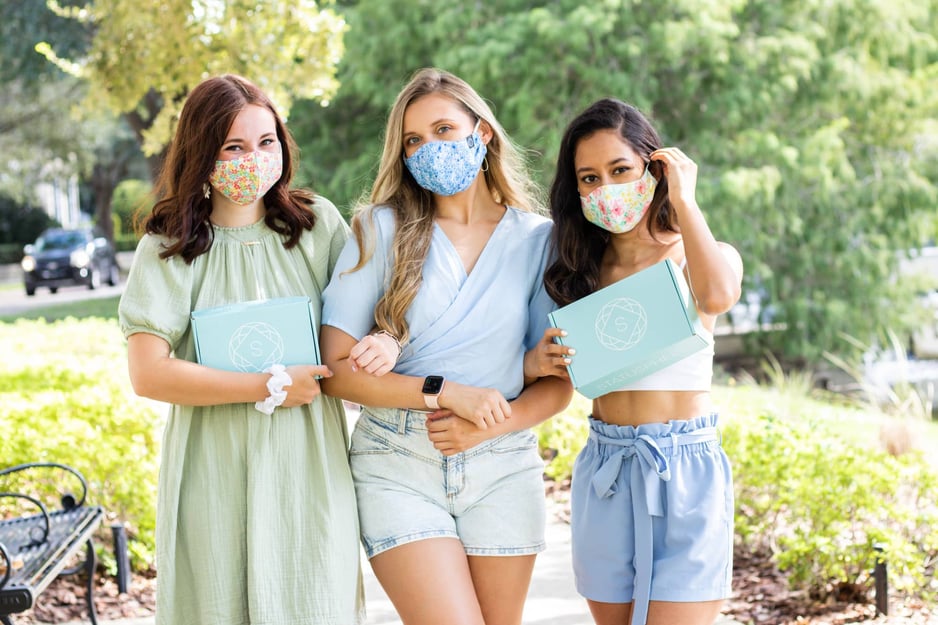 Entering a post COVID world is going to be challenging for brands, whether consumers are ready to test products while shopping or if e-commerce is the new norm you'll want to utilize resources to reach new customers. Product sampling can get your company in front of consumers immediately.
Pre-packaged samples are going to be one of the most popular ways to get products out there because now more than ever customers are going to be taking extra safety precautions. That's why your brand should invest in product sampling or other gifting alternatives to meet consumers where they are post-COVID, which is probably at home.
Here are 10 reasons why product sampling marketing is perfect post COVID-19:
1. It's actually pretty cost-effective
There's always some expense involved in offering free samples of your products, but product sampling is no more expensive (and in some cases, less expensive) than in-person sampling—yay silver lining to a post-COVID world.
Bulk mail rates are low and you don't have to pay somebody to stand in a store or at an event and hand out samples. Although we do miss in-person events, that's a big plus if you're worried about costs, particularly if your product can be mailed in a small package.
2. You don't have to let in-store samples go to waste
Since you probably already planned (and budgeted) for in-store samples, you won't want them to go to waste or collect dust in a warehouse. You could offer the sample to the public and target your ad by using Facebook metrics to reach people who are likely to be interested.
3. You won't miss out on your typical back-to-school/holiday shoppers
Whether it's virtual or in person, back-to-school and holiday shoppers will still be on the hunt for the perfect gift or school supplies. When you mail out a sample of your product, you trigger the reciprocity effect and greatly increase the chances that the recipient will buy your product after trying it! Your brand can take advantage of this and curate product sampling campaigns to ship off some of those staples they might be looking for.
4. Highlight any promotions you have going on
You might be feeling the strain of low in-store foot traffic due to COVID. A great way to let people know about any promotions you have going on is by including marketing collateral or inserts with whatever promotion you have going on within your product sample packaging. That way, consumers can stay in the know. You should also include shipping codes or discount codes so you can measure the ROI of your campaign.
5. Create a more personalized experience for recipients
When you set up a product sampling campaign, you get to wow recipients with smaller details you might not otherwise have the chance to do in stores. Write custom thank you notes and mention any product highlights that you're proud of. Are you EWG certified? Do you have the Leaping Bunny stamp of approval? Have you pledged to use only recyclable packaging?
6. You can push virtual experiences
Besides whatever fun samples you decide to send out, use this opportunity to promote any new virtual experiences. Brands like Ulta Beauty are finding creative ways to re-create the in-store shopping experience. Their GLAMlab and Foundation Shade Matcher lets users try and mix beauty products at home rather than using testers in-store.
For more tips on how you can take your in-store marketing efforts online, check out this blog!
7. Help shortcut buying decisions
Stores will be opening up with a lot of safety measures, this might stop shoppers from trying your products since the normal try-on experience is a thing of the past. When you offer a free sample for consumers to try at home, you give them an opportunity to answer questions they have about a product. Instead of wondering what a product is like, they experience it first-hand.
8. You'll get some user-generated content
Invite recipients to share on social media and spotlight some of the best user-generated content you receive from your sampling efforts. That way, you'll create a chain reaction and get more people interested in trying even without leaving their homes. Being memorable with your packaging can encourage them to do so!
9. You can use influencers to get more people interested
This type of campaign may be combined with influencer marketing – say by mailing 100 baby bottles to influential mommy bloggers. In turn, these bloggers share the new find with their dedicated audiences who trust their recommendations and will feel more inclined to buy. This allows you to get the benefits of both influencer marketing and a sampling program.
10. Utilize a service to do the work for you
Whether you're looking to send your samples out to vegan bloggers or DIY-enthusiasts, Statusphere makes it easier than ever. We handle everything from influencer communication and match-making to shipping and reporting! At Statusphere, we help people discover brands they love, from people they trust.
It's safe to say that social distancing has forced companies small and large to get more creative with their product sampling ideas. Think outside the box a bit and you can get your desired product directly to consumers so they can see what makes your brand so great. (Contactless, of course.)
If your brand needs help to accomplish its product sampling goals during social distancing, Statusphere can help. To learn more about how we can get your product samples in front of consumers, contact us here.