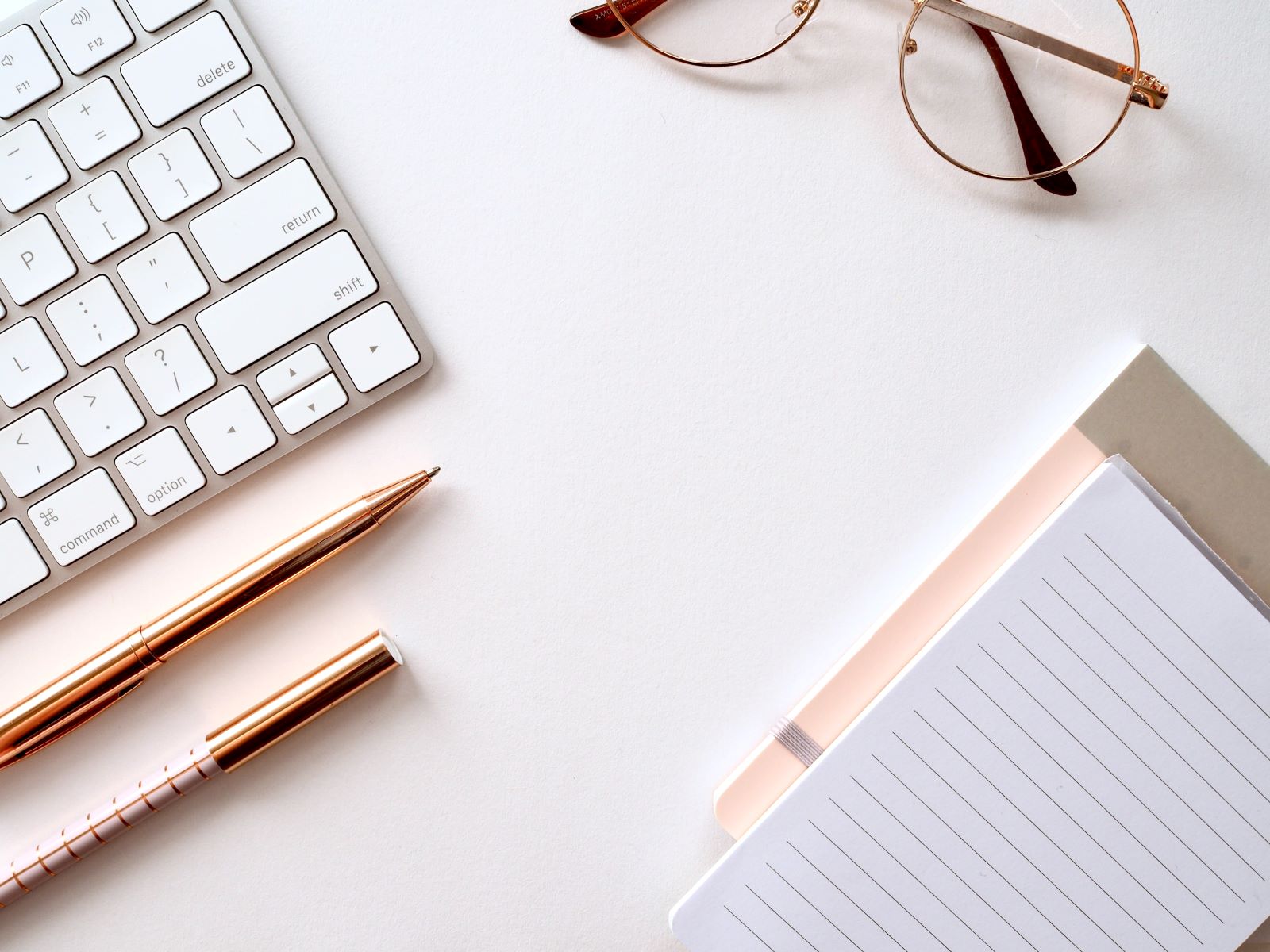 After exploding in popularity over the last few years, TikTok has taken the world by storm. With more than 1 billion monthly active users, TikTok gives brands an extraordinary opportunity to meet their audience where they already are. But TikTok marketing can look a little different from marketing on other social platforms, due to both its unique format and giant user base. That's why we've compiled this Complete TikTok Marketing and Advertising Strategy Handbook: to give brands all the TikTok tools they'll ever need in one convenient location.
Table of Contents
TikTok Basics: What is TikTok?
Whether you're brand new to TikTok or are just looking to amp up your existing strategy, refreshing the basics is a great place to start. So, what is TikTok? Put simply, TikTok is a social networking app consisting of short-form video clips, designed first and foremost to be entertaining. As of July 2021, TikTok extended its max video length from one minute to three.
TikTok is equipped with familiar social media features, like hashtags, and unique features, like custom audio tracks and Duets. One feature that really sets TikTok apart from other social media apps is that it's geared toward discovery. Upon opening the app, users are taken directly to the For You Page (FYP) – an endless stream of scrollable video content where TikTokers can discover videos from creators they don't follow. Which videos a user will see on the FYP is determined by the TikTok algorithm.
This discovery-oriented platform levels the playing field for creators small and large – giving creators who don't have a large following the potential to go viral. The app has 5 other main pages: the Discover page (where brands and creators can explore trending hashtags, effects and sounds), the Inbox (where users can keep track of notifications and messages), individual Profile pages (for, you guessed it, individual profile content), the Following page (where users can scroll through content from creators they follow), and the Record page (where TikTokers can record and post content).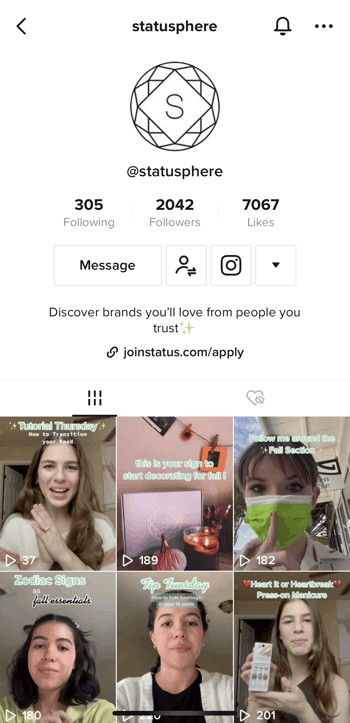 Another thing TikTok is famous for? Trends. This is an app where hashtag challenges, sounds and effects can go viral quickly, allowing creators to remix and engage with each other's content.
If your brand is new to TikTok and ready to set up a business account, you can follow this step-by-step tutorial to learn how: How to Set Up a TikTok Account for Your Brand.
And before you start creating, be sure to check out these resources for tips and best practices:
TikTok Demographics: Who Is On TikTok?
It's no secret that TikTok is primarily thought of as a "Gen Z" social network, and indeed, nearly half of its user base is between the ages of 16-24. However, the number of older TikTok users has been steadily growing, at one point in the app's popularity increasing by 5.5 times over a single 18-month period.
As of 2021, just over 40% of users are between the ages of 30-49, and 11% are over 50. So while kids, teens and young adults still run the app, it has attracted people of all age groups. This means it's a valuable platform to be on even if the majority of your target audience falls outside of the Gen Z demo.
Aside from demographics, another important thing to remember is that TikTok has a highly captive audience. TikTokers spend an average of 41 minutes on the app per day and, recently, the length of time U.S. users spend on TikTok surpassed their time spent on YouTube.
The takeaway here? Even if your demographic isn't on TikTok yet, its rapid growth and increasing popularity are reason enough to start building a presence for your brand. As more consumers download the app, you'll be glad you did.
Ready to dive deeper? Here are even more TikTok stats that prove it's worth it.
Best Practices for Content Creation and Boosting Followers on TikTok
Navigating a newer social platform can be tricky, but by paying attention to what types of content perform well, how TikTokers engage with each other on the app, and by understanding your target audience's interests, you'll be well on your way to creating content that resonates. As a whole, content that performs well on TikTok checks one of a few boxes; it either entertains, informs or is relatable. When in doubt, keep TikTok's advice for businesses in mind: "Don't make ads, make TikToks."
Whether your brand's TikTok goal is to increase brand awareness, grow your following or a combination of both, here are our top TikTok content creation tips: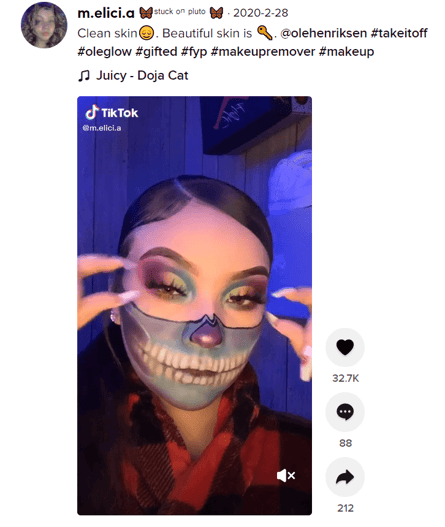 One trick to try: create your own trend and tie it into your branding. Challenge TikTok users to put your product to the test and film themselves doing it - like Ole Henriksen did with their #TakeItAllOff Challenge. With the right, fun elements and promotions, your brand's challenge could become the next TikTok trend.
Need more advice on what to post on TikTok and how to grow your following? Give these blogs a read:
How to Drive Sales With TikTok
Content creators on every social media platform have proven time and again that their content can be directly beneficial to sales. More often than not, this happens over time as the result of growing brand awareness, increased reach, and improved brand reputation and sentiment, but it can also happen as the result of a piece of viral content.
TikTok in particular is known for scenarios just like this. A recent example is that of Trinidad Sandoval, known as @trinidad1967 on the app, who posted a video using skincare brand Peter Thomas Roth's Instant FirmX Eye Cream. Viewers were so blown away by her video demonstration that they bought the product in droves, selling it out of several retailers almost overnight.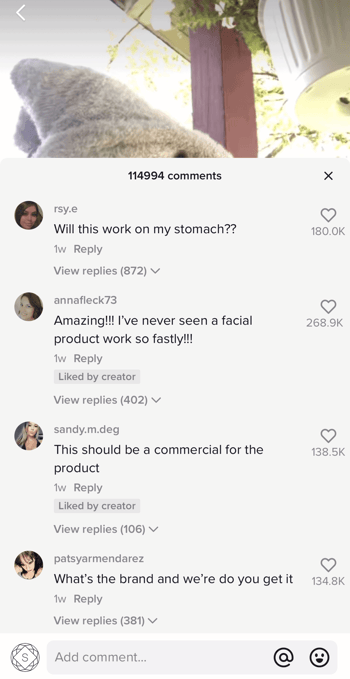 This story is a stellar example of "TikTok Made Me Buy It:" a phenomenon in which products go mega-viral on TikTok and a brand sees a huge boost in sales, usually completely out of the blue. While going viral is neither something brands can predict nor ensure, there are still ways to use TikTok to your advantage for online and in-store product awareness and sales. Try some of these tips on for size:
The social media giant has also been testing a new social commerce feature called TikTok Shopping, which is, as of September 2021, in a pilot test with big brands, like Kylie Cosmetics. Once widely available, the update will allow brands to add a storefront to their profiles displaying their product catalog. It will also allow them to use product tags to add product links directly to their TikTok videos. There's no word as to when these features will be rolled out to all brands yet, but social commerce as a whole is expanding rapidly, so it's undoubtedly on the horizon. In the meantime, continue upping your TikTok selling strategy with these blogs:
How to Find (and Work With) TikTok Creators
If you're scratching your head wondering where to find TikTok creators and how to work them into your TikTok strategy, you're in luck. There are a variety of ways to find creators to work with, including TikTok's free, in-app solution, the Creator Marketplace. The marketplace is a dedicated space for brands and creators to connect for collaborations. Brands can browse creator profiles, using filters for easy sorting, and once you find some accounts that fit your niche, you can access detailed insights collected directly by TikTok. The Creator Marketplace doubles as a space to contact creators directly, which is great for keeping all your correspondence in one place.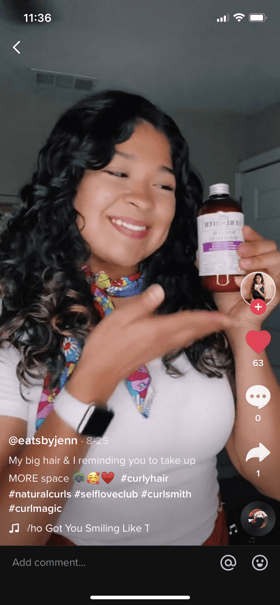 But the TikTok Creator Marketplace isn't your only option. There are various influencer marketing platforms that compile information on creators, and some also give brands tools to streamline the campaign process, such as reporting features.
As specifics — and prices — vary between platforms, it's important to consider how much time, money and resources your team has available. Finding creators, contacting them, negotiating, shipping products and managing the campaign start to finish all take time. While influencer databases, and platforms like the Creator Marketplace, can reduce the time and resources consumed in some areas, you'll be on your own in others — even the TikTok Creator Marketplace has no native tool for paying creators, so all transactions need to happen outside of the app.
Brands can always take a completely DIY approach to finding and pitching creators on TikTok, but doing everything in-house can also be very time-intensive. You can compare the various influencer marketing campaign tools and services here.
For more resources and sample templates for your DIY creator outreach, check out these blogs:
TikTok Advertising 101
As with most social channels, TikTok offers brands the opportunity to buy advertisements to boost their reach on the app. Ads can be run through TikTok for Business, an online platform that helps you set up your ad campaign, nail down your audience targeting, and get ad performance statistics in real time.
There are a few different types of TikTok ads available to brands as of September 2021. We'll go over them briefly below, but this blog post dives deeper into each TikTok ad format. And when you're ready to create an ad, you can also learn more about TikTok's ad specifications here.
There are a few downsides to consider when debating whether to purchase TikTok ads. For example, while the ad experience is generally pretty seamless, a definite plus, TikTok ads can be pricier than ads on other social platforms.
For more information about TikTok ads and the costs and benefits associated with them, check out these articles:
Real Examples of Brands Using TikTok Effectively
Looking for a few examples of brands using TikTok to create great content, drive sales or simply increase brand awareness? Here's a few of our favorite campaigns:
1. E.L.F. Cosmetics: Eyes. Lips. Face. Campaign
E.L.F. Cosmetics famously harnessed the fast-moving nature of TikTok by creating their own custom audio, an upbeat song called "Eyes. Lips. Face." The trend caught on quickly as users posted videos of their own makeup looks, especially those created with E.L.F. products, leading to tons of user-generated content for E.L.F., widespread brand awareness and even increased sales as a result. As of September 2021, over 1.4 million videos had been created using the official audio.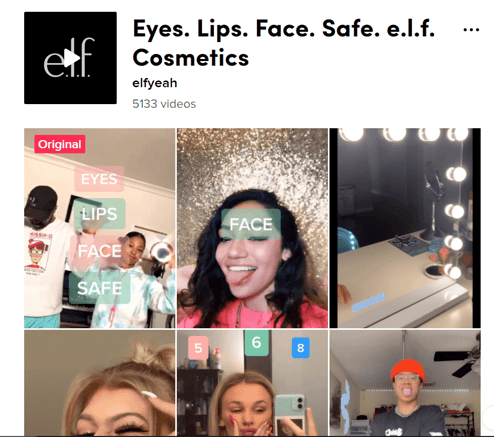 E.L.F. Cosmetics actually got extra mileage out of this campaign in March 2020, when a slightly remixed version was released called "Eyes. Lips. Face. Safe." The new song featured a few extra lyrics promoting social distancing and handwashing amid the COVID-19 pandemic, and another 5,000 TikTok videos were made using the remixed audio.
The newspaper giant creates high-performing content on a regular basis, with their "Quarantine TikToks" — essentially, any content created by Washington Post Video Producer, Dave Jorgensen, from his own home — gaining significant attention. The account has done extremely well on TikTok, especially considering the network's younger demographic combined with the paper's dense, politics-heavy content bank.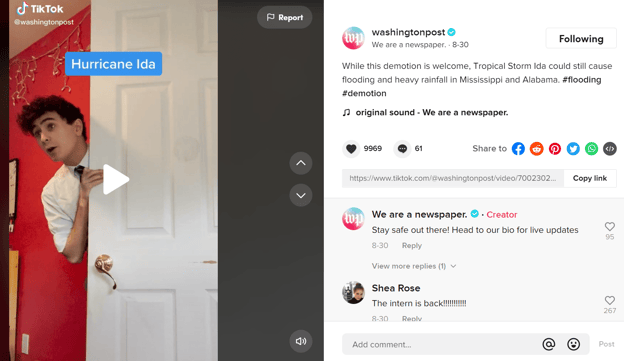 The newspaper's success comes from creating bite-sized, entertaining content connected to some newsworthy aspect. While the Washington Post began its account showing behind-the-scenes clips of reporters goofing around at work (a good way to snag that funny, relatable content), they soon were forced to transition to remote work. Now, Jorgensen finds creative ways to convey the daily news to a scrolling audience, often resulting in low-budget, humorous clips. The Washington Post has adapted to its audience where they are, and the account has grown exceptionally popular, even earning Jorgensen the endearing nickname of "The Washington Post TikTok Guy."
3. Asos
Fashion and cosmetic brand Asos successfully combined two major social media marketing tools to increase their TikTok engagement. They hosted a giveaway by having followers guess which product was shown in an extreme close-up video, offering free products to a random user(s) who guessed correctly. This strategy boosted engagement by encouraging comments, and even more so because the comments were directly linked to free goodies.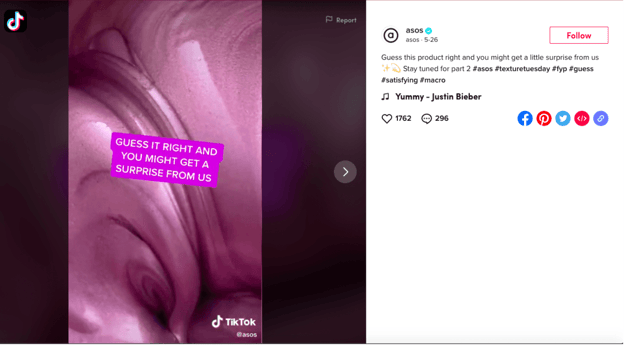 The guessing game gave the clip some extra intrigue, separating it from your run-of-the-mill giveaway announcement post, and put more of the power in followers' hands, as the giveaway relied on them using their brain to guess correctly and potentially win. In short, this giveaway tactic provided extra value to the user than a traditional giveaway, since it was also an entertaining puzzle.
For even more campaign ideas based on real brand examples, check out these blogs:
Ready to dive into a TikTok campaign of your own? Statusphere can help connect you with TikTok creators who are interested in your brand's products and want to post about them for their followers. Click here to see how we do it and connect with a marketing expert.