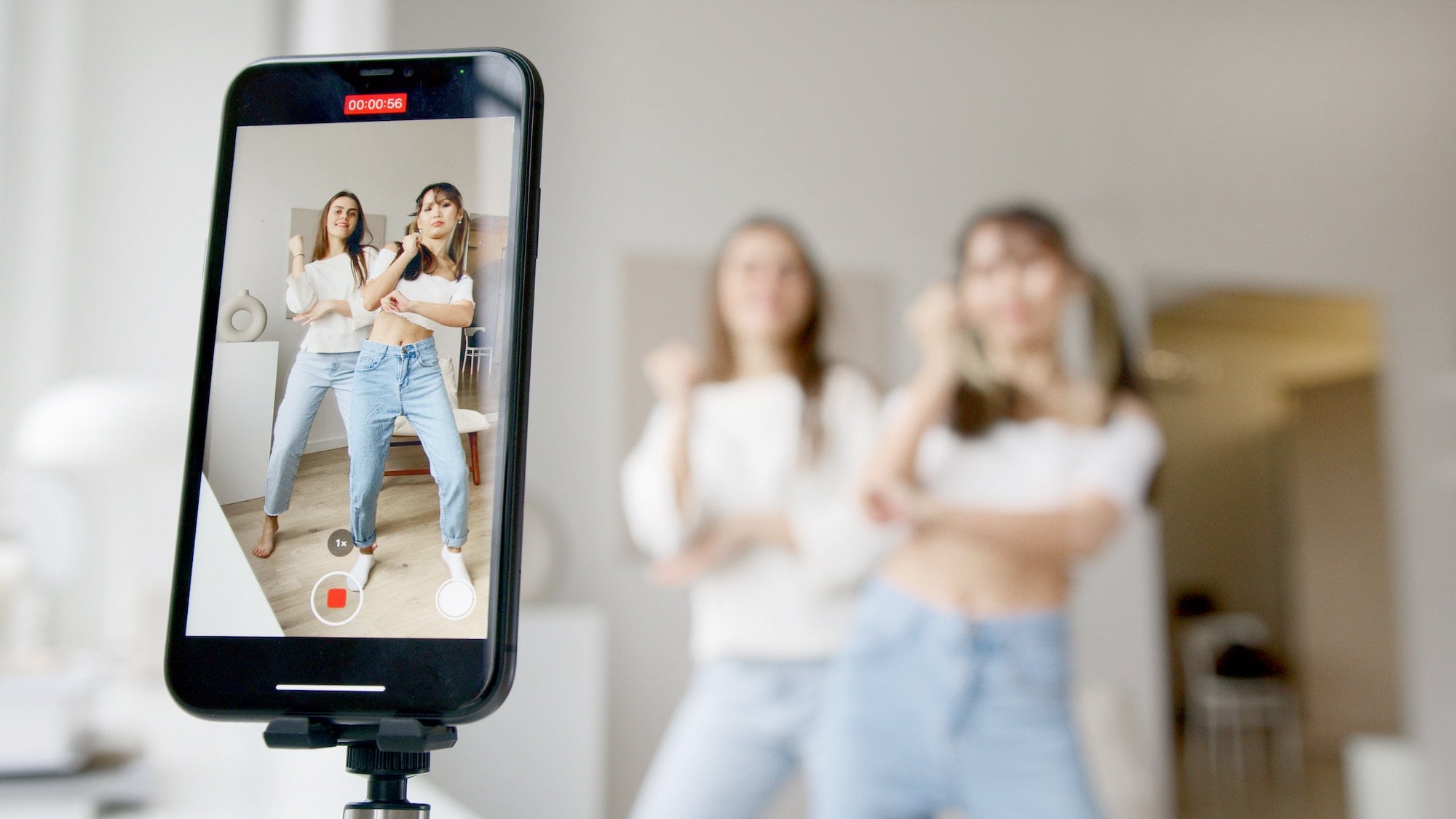 With more than 689 million monthly active users, TikTok has proven itself to be fast-growing and profitable for brands of all kinds. Not only do users loyally follow their favorite content creators on the platform, but the For You page is every micro-influencer and brand's dream come true.
Because the For You page appears as the first screen users see when they enter the app, users are constantly discovering new content curated for them based on their unique interests (among other things) – from entertaining posts and new creators to hacks and products the platform thinks they'll love. And as any TikTok user will tell you, TikTok is scarily good at knowing exactly the type of content and products they'll be interested in!
Between TikTok's growing popularity, and the discoverability and reach of influencer content, the platform lends itself to influencer marketing campaigns that get results. Whether you want to increase brand awareness or support your next product launch, here are some TikTok influencer marketing campaign examples and ideas to inspire your strategy.
Hashtag Challenge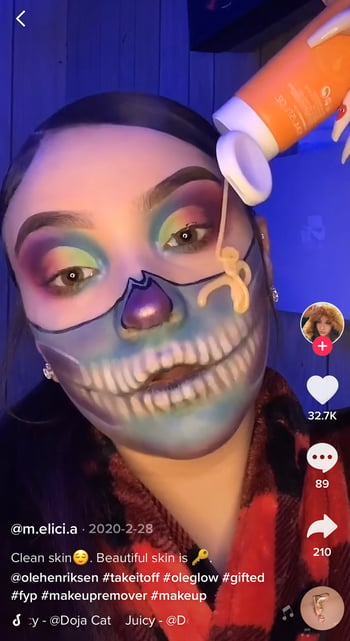 TikTok courtesy of: @m.elici.a
Hashtag challenges are incredibly popular on TikTok – and they make great influencer marketing campaigns too! All you need is to do is create a hashtag that ties in with your campaign's theme or featured product and ask influencers to incorporate it into their captions. Not only do hashtags make your campaign discoverable to other TikTok users, they also help your brand easily keep track of campaign results.
For their #takeitalloff hashtag challenge, Ole Henrikson worked with Statusphere to find influencers to put their Truth Juice Daily Cleanser to the test. Influencers used the hashtag #takeitalloff in their TikTok and showed themselves using the product. The brand also asked creators to add the song "Juicy," by Doja Cat into their content to tie-in with their product's name. Click here to watch a TikTok that one of their influencers created during the campaign (pictured above)!
eCommerce Campaign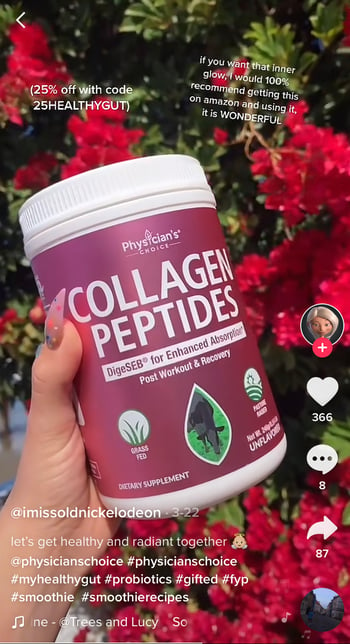 TikTok courtesy of: @imissoldnickelodeon
If you're familiar with the phrase #TikTokMadeMeBuyIt, you already know what makes this type of influencer marketing campaign perfect for brands that want to boost their eCommerce sales. If you're not familiar with this hashtag, here's what you need to know about how TikTok is driving millions of dollars in sales.
This eCommerce driven campaign is the approach Physician's Choice took when they worked with Statusphere to create a TikTok influencer marketing campaign that would drive traffic and sales to their website. As part of the campaign, influencers were given a promo code to share in their content, passing on savings to their followers. Here's a look at the content one of their influencers created during the campaign (pictured above!).
Including promo codes into your eCommerce influencer marketing campaign is a great way to attract new customers, since product cost is the reason 25% of customers abandon their shopping carts. Another bonus: promo codes also allow brands to attribute purchases to their influencer campaigns!
Before and After Campaign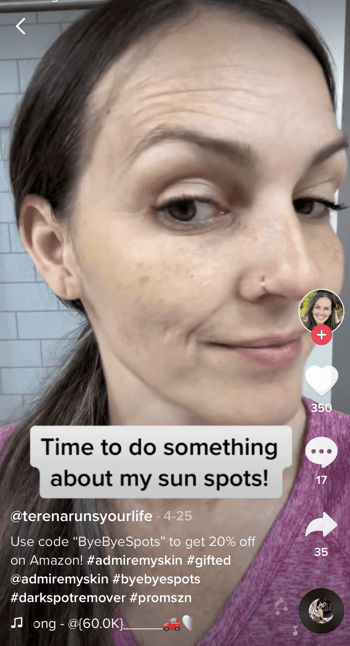 TikTok courtesy of: @terenarunsyourlife
Testimonials have been shown to heavily influence purchase decisions – and we can't think of a testimonial more powerful than a before and after! Admire My Skin had the same idea in mind when they worked with us to create a TikTok influencer marketing campaign that showed off how their Ultra Potent Brightening Serum removes dark spots. They also incorporated a fun campaign hashtag, and gave influencers an Amazon promo code to help drive sales! Here's a look at the before and after content one of their TikTok influencers created during the campaign.
Ideas to Build a Successful TikTok Influencer Marketing Campaign
The campaign examples and strategy tips above should put you on the right path to building a successful TikTok influencer marketing campaign, but here are a few other ideas to consider:
Extend the life of your campaign by resharing the influencers' campaign content to your brand's TikTok and other social channels (with permission, of course).
Ask the TikTok creators within your campaign to show their followers how they use your product (tutorial-style) or to share what they love about it.
Ask influencers to incorporate a sound into their TikTok content. This sound can either be created by your brand to tie into your campaign, or it can be a preexisting sound or song that you select.
Select your influencers based on their niche and their content's engagement rate. These two factors are much better indicators of campaign success than follower count – which is why it's often

more effective to work with micro-influencers

over macro-influencers.
Even when you know what kind of campaign you want to run, you'll still need to find the right influencers for the job, send them products, manage the campaign and track the results. This can be time-consuming for many brands and restrict the size of the campaign they're able to run on their own.
If you want to run a TikTok influencer marketing campaign but are limited on resources, a full-service influencer marketing company, like Statusphere, can help. We have a database of micro-influencers that can execute any campaign you want to create and we'll manage all the details of your campaign from start to finish. If you want to learn more about how to reach your brand's goals with a TikTok influencer marketing campaign without lifting a finger, click here to speak with one of our influencer marketing specialists.