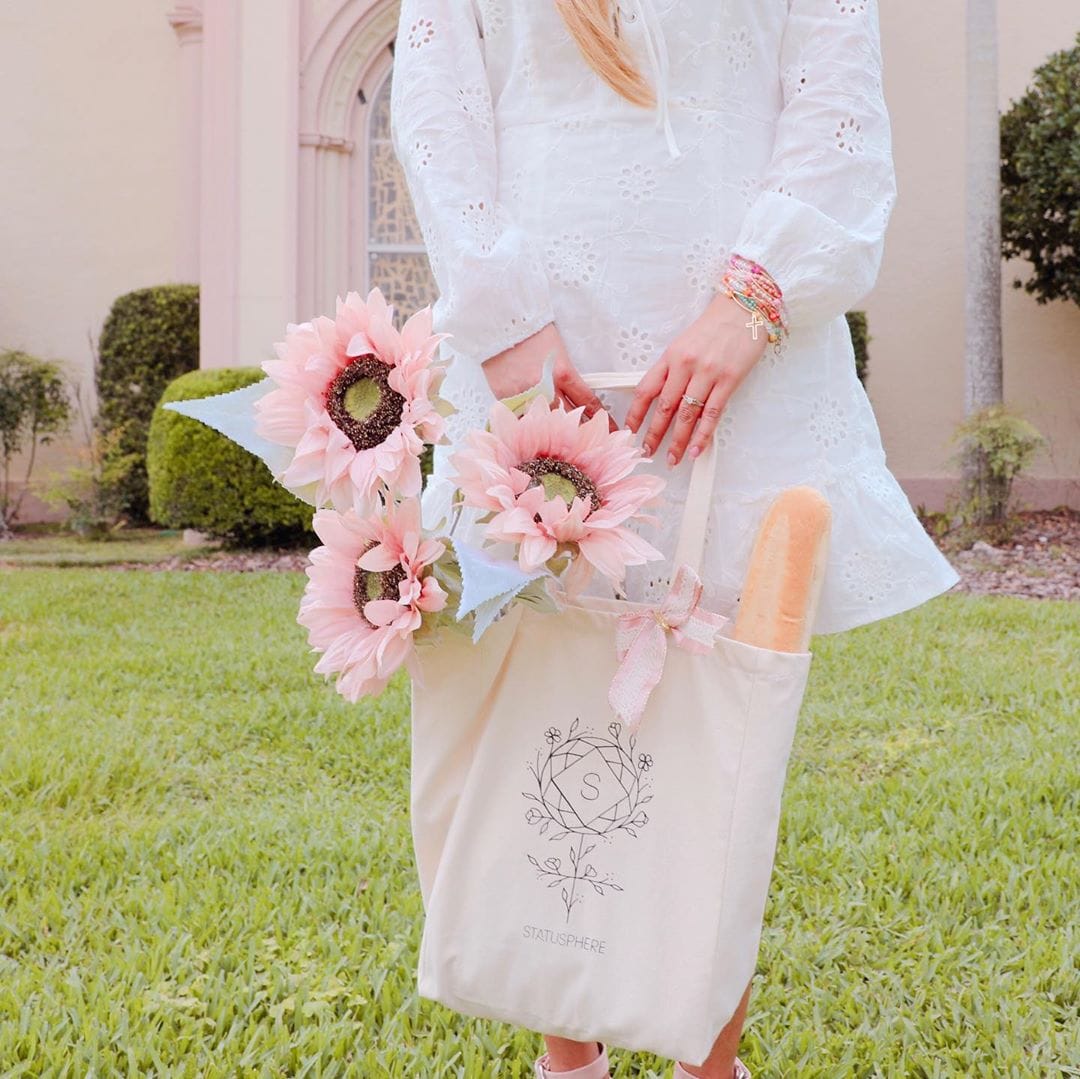 Photo courtesy of @letiespadas
The best tool your brand has available to keep its marketing efforts top-notch? Your consumers. By cultivating a sense of community with your consumers, you build a loyal following that will help continue to spread the word. The idea behind consumer-generated marketing (CGM) is to not only get consumers to purchase your product but also have them share it on their own social media. We'll go over five types of consumer-generated marketing and how your brand can start and scale this type of campaign.
1. Challenge/Contest Entries
A contest is the most popular consumer-generated method. Just come up with a good prize and let people know about it. You'll want a way to collect entries (usually with a hashtag) or by creating a unique landing page, and then sit back and watch the homemade content roll in from customers. Be sure to repurpose your favorites!
At Statusphere, we recently ran a referral contest to grow our network of influencers and get gorgeous consumer-generated content in the process. Over the course of six weeks, 81 influencers received custom Statusphere tote bags to share and be entered into the running for a prize. The contest garnered over 1,700 total applications and 85 unique pieces of content across Instagram and TikTok.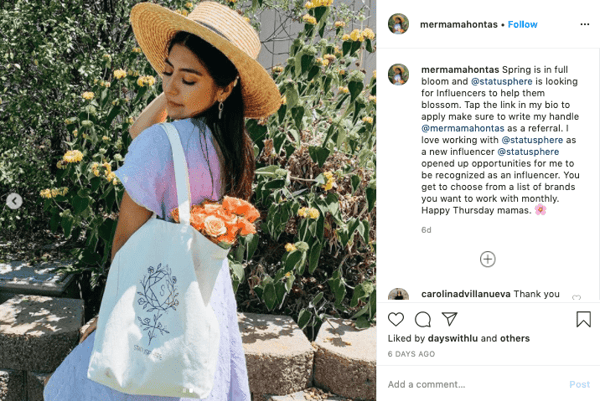 For more tips on running a contest like this, check out our other blog here!
2. Event-Inspired Content
Instead of creating your own assets for ads and social posts, incorporate the unique content made by your followers! For example, to celebrate Global Recycling Day, Dove focused on spreading its mission to reduce and eliminate plastic waste by 2025. Take it a step further by partnering with influencers who align with your brand's mission and have them share your product with their followers.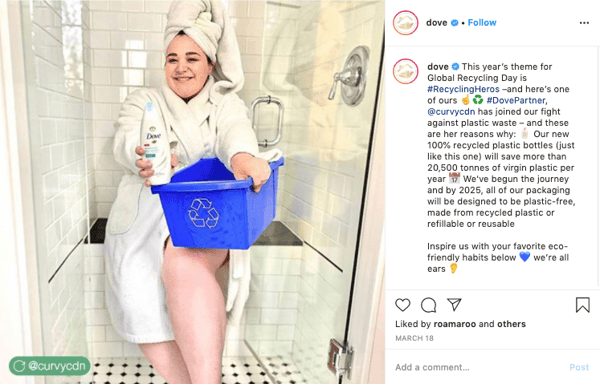 3. Use Your Everyday User
Don't forget the power of your everyday users. These consumers are fans of your product for a reason, so make them your number one spokesperson and people will be more likely to trust your brand. Thank you word-of-mouth!
Beauty brands like Lush Cosmetics do this better than no other. They frequently feature consumer-generated content across their social media channels.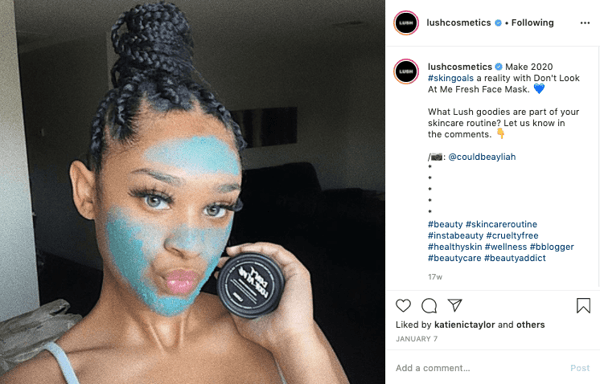 4. Shareable/Viral Content
When you start getting as much hilarious, viral content made about your brand like Chipotle does, you have no choice but to start incorporating it into your social feeds. Chipotle has mastered the art of consumer-generated marketing and they clearly have a good time doing it.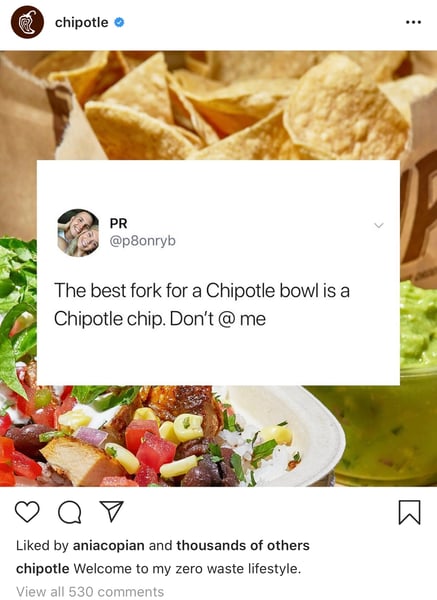 Not only does this give you a chance to highlight your other social channels that might need some more love, but you get to engage consumers and participate in the conversation surrounding your brand. Maybe there's an issue that you can resolve in the comments section that you wouldn't have previously been aware of.
5. Seasonal Campaigns
Brands are always looking for ways to revamp their seasonal campaigns. That's where consumer-generated marketing can come in! Starbucks (yet again) knows just how to celebrate when a holiday comes around by resharing cute content made by consumers.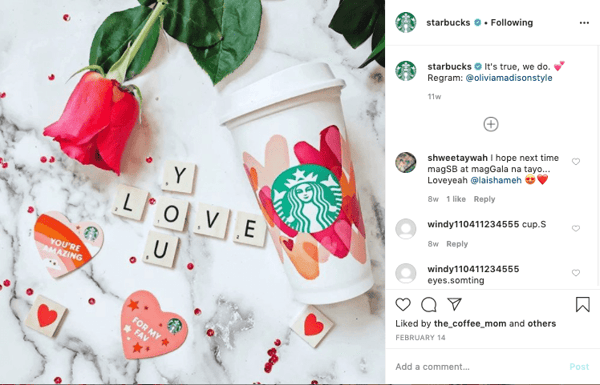 How to Start and Scale
Once you know the different types of consumer-generated marketing out there, you can run a campaign of your own! You'll have to figure out a few of the fine details first, so keep some of these tips in mind when you want to start and scale:
Plan ahead - No matter what method you choose to employ, planning ahead is always a must. Especially when it comes to seasonal campaigns. These can take weeks of planning and coordination.
Initiate a contest - If this is the method you choose to go with be sure to announce the contest on your company's social channels!
Create a unique hashtag to track posts - You'll want to have someone in charge of monitoring this hashtag to collect content.
Re-share some of the best content posted - Keep the momentum for a contest or holiday campaign going by resharing some of the content you receive. It's free, it's about you and a great way to fill your content calendar.
Display CGM content on your website - If you create a place on your website to display social media content that's been submitted by your customers, then they'll take advantage of it.
Partner with Statusphere - Statusphere helps your brand start and scale its consumer-generated marketing efforts by matching you with content creators who will love your product. All you have to do is tell us your target audience and how many influencers you want posting and we handle the rest! (Even shipping!)
If you have any brand ambassadors, use them to get the virtual ball rolling and kick-start engagement by creating the first posts. Before you know it, you'll have plenty of shareable marketing content. Once your followers see that their fav influencers are on board, they'll follow suit. If you don't already have a team of influencers, no worries. Contact us to chat with one of our influencer marketing specialists and get started today!