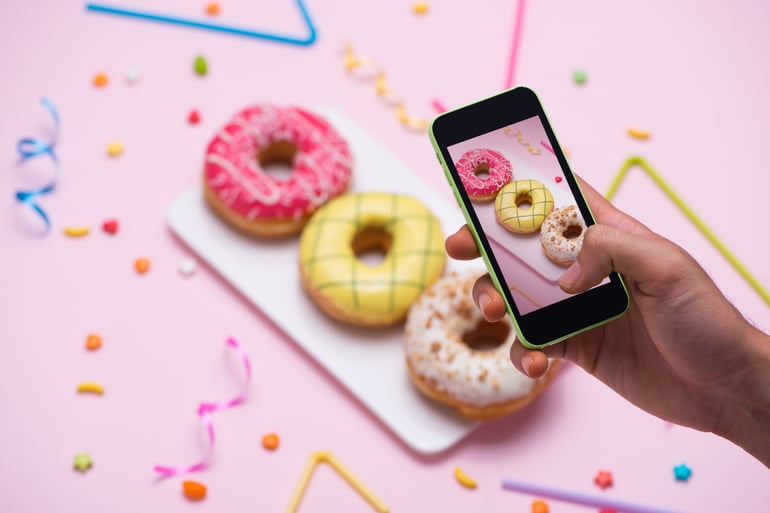 These days, if you're not working with influencers, you're late to the game and missing out on some valuable opportunities. By now, you should definitely have your focus turned to working with micro-influencers. Unlike influencers with millions of followers, they're incredible at creating high-quality content their followers are excited to engage with. There are plenty of ways to partner with micro-influencers on Instagram as a part of your social media strategy, you just have to find them. The only thing is, there's a bit more to this than just clicking around on Instagram and checking follower counts. Here are some useful methods to help you find the best micro-influencers for your next campaign.
Search Hashtags
A great starting point is going through Instagram hashtags that are relevant to your brand. Which ones do you use the most in your company's posts? Don't act like you aren't using them, there are probably some that stick out! If you aren't using hashtags then that's a whole other dilemma you can quickly solve here. Hashtag searching is useful because within these hashtag feeds you'll find posts from micro-influencers who are uploading similar content to you.
You can also look for area-specific hashtags if your goal is to find micro-influencers in a certain geographic location. Try looking at hashtags like #LAfashionblogger or #Atlantafoodblogger to find influencers blogging about specific industries in your area. Spend some time coming up with a list of the best ones for your upcoming social media campaign, and then find influencers who use them.
Target Micro-Influencers in A Specific Location
If you want to use influencers who live in a certain geographic region, there are several ways to find them. We already mentioned the use of hashtags, but it doesn't stop there. Geographic location tagging works in a similar way but takes it to the next level. When you tag a location to your post (like a "check in" on Facebook), you can click the location and you'll find a whole community of pictures all tagged in that same area. You'll find people within your own community or your targeted community, and who knows what micro-influencers are lurking there. Now that you know where certain influencers live, invite them to your next pop-up shop opening or to your brand's headquarters to film a product demo! The possibilities are endless if you can find micro-influencers who live nearby.
There are also specific, city-based blog groups. For example, you might find a group that caters to beauty bloggers in Las Vegas or Los Angeles. These groups tend to choose their members carefully, so you can rest assured that you're finding the best in the area. Many of these groups have a joint Instagram account that makes it simple to direct message them and get a hold of the influencers. This makes it easy to partner with multiple influencers at once!
Check Your Own Followers
Checking out your own followers is another great and simple strategy for finding micro-influencers on IG. Yep! Going through the people who are already following your brand on Instagram shows that they're interested in your industry and what you offer. Sure, you probably have thousands of them, but as you begin to scroll through the list, some of them will stand out. First look for accounts with blogger-style usernames like "cupcakesandcashmere" or "thefashionfile" as obvious indicators of a potential influencer so you aren't wasting time looking at the profiles of everyone who follows you. Also try looking for professional profile photos as most influencers put in the effort to have a clear, high-res profile picture.
Utilize Specific Search Tools
There are a number of search tools available that can help you find micro-influencers. Most of them are online platforms that you'll have to sign up and pay for. While this isn't the least expensive method, it is easier than spending hours combing through your followers list or hashtags. These platforms can help you connect with influencers much faster, and have a number of additional features that you may find useful as well, such as filtering by location, industry and follower count. Keep in mind that a lot of these platforms don't vet their influencers, so beware of influencers with fake, purchased followers!
Use A Service To Connect You
You can use an influencer marketing platform that's more hands-on with helping you partner with influencers. These platforms take the time and guesswork out of influencer marketing by matching you with the perfect influencers for your brand and goals. At Statusphere, we connect you with the very best micro-influencers that meet your needs. We thoroughly vet the influencers that we work with in order to ensure that they're getting real, authentic engagement. Since we help match influencers to brands and manage all influencer communication, you're able to focus on the other aspects of your campaign and meeting your marketing goals.
Finding micro-influencers can be a time-consuming process. If you don't want to spend hours searching for the right micro-influencers for your next campaign,
contact us
to chat with one of our influencer marketing experts.