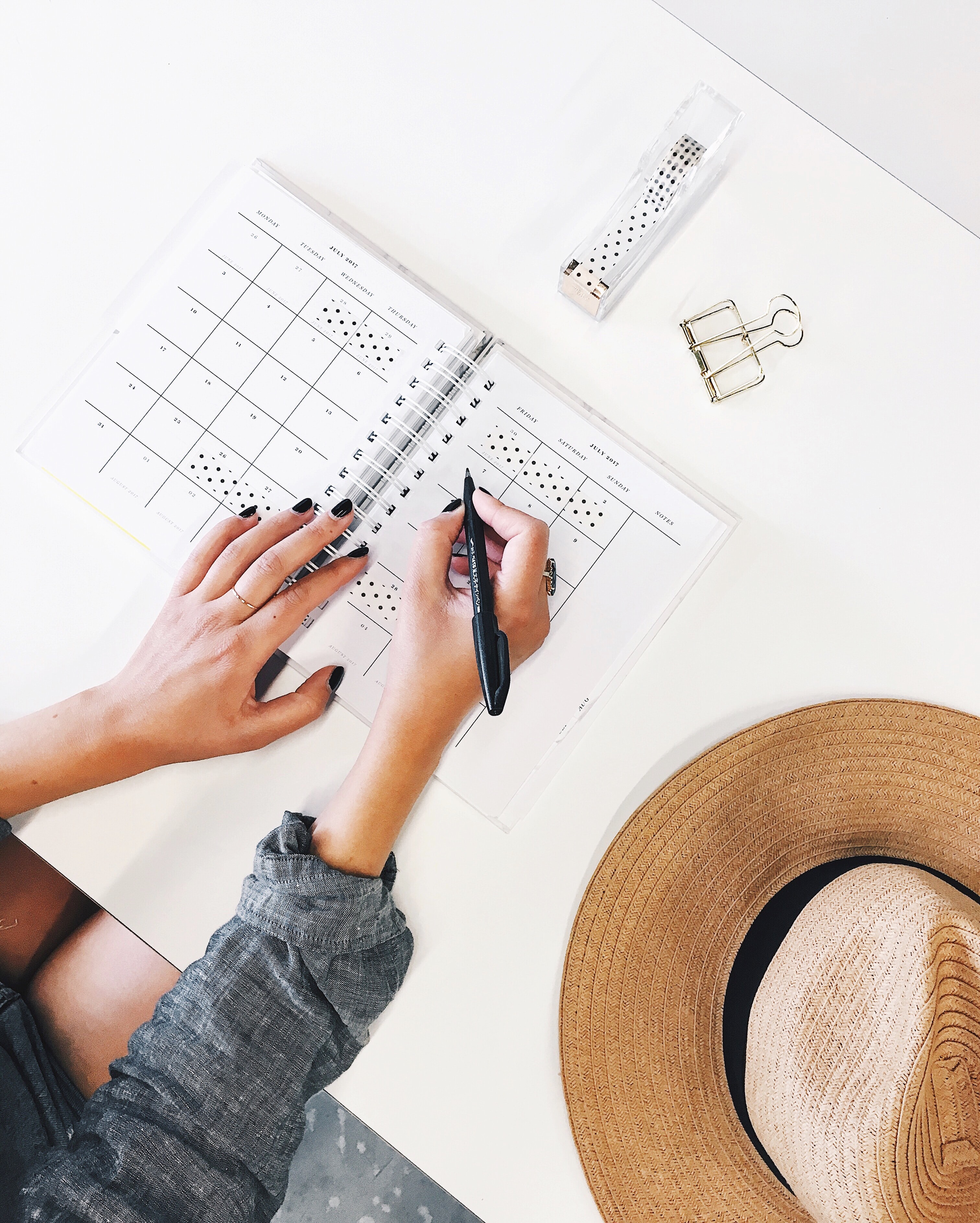 Establishing an effective advertising strategy for your brand can be difficult. TikTok's advertising platform makes it easy for brands to increase their following, engagement and gain popularity. Plus, they've garnered 2.6 billion app downloads worldwide, becoming the new it-girl of social media platforms and providing brands with a huge number of users to connect with. In this blog we're sharing how to get started with TikTok advertising and what you should consider before creating your first advertisement.
What is it?
TikTok for Business, provides brands with an easy way to create advertising campaigns to drive e-commerce success. The platform offers:
Real-time performance reporting
Audience targeting
Access to customer support
And more
According to TikTok, an independent jewelry store by the name of Slate & Tell created a campaign with their platform that reached 4 million TikTok users and helped them achieve their 2x return-on-ad-spend within 6 months.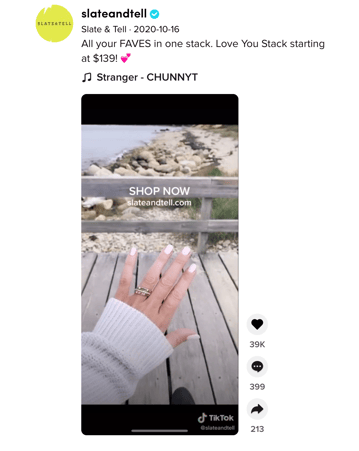 Here is an example of how the brand uses TikTok to promote its products, allowing them to increase their sales and brand awareness.
Before You Create Your TikTok Ad Campaign:
Consider your target audience
Making sure you understand who your target audience is and how to appeal to them is crucial for the success of your campaign. From researching hashtags related to your niche to finding out which TikTok influencers your audience follows, to looking at what content does best with your current followers -- your main goal before launching any advertisement should be to establish and get to know the target demographic you're appealing to. Tiktok has over 800 million monthly active users, and 43% of users outside of China are between the ages of 16-24. Looking at this data can be overwhelming, so make sure you spend time analyzing your current audience and figure out the best way to appeal to them.
Establish your campaign goals
Whether you want to build brand awareness or increase your sales during peak selling seasons, establishing a plan that includes goals for the campaign you're planning is essential. TikTok advertisements can help brands achieve objectives like Reach, Traffic, App Installs, and Conversion. Knowing this, take the time to figure out at least 1 main goal you want your campaign to help you achieve so you can put all of your focus into it.
Want to achieve more app downloads for your brand? Use an In-Feed Ad that links to your app in the App Store.
Want to increase brand awareness and improve conversions? Use the Branded Hashtag Challenge Ads to create the perfect hashtag challenge for your brand, and utilize a coupon code.
Want to deliver mass awareness and direct sales to your brand? Use the Brand Takeover Ad.
Want to increase sales with user-generated content and product reviews? Partner with an influencer to promote your products in a seamless way.
Have no idea where to begin? Checkout these examples of ways to use TikTok for brands to help you brainstorm your ad's content.
Overall, TikTok is a great platform to generate buzz around your brand and, done right, can be an excellent way to encourage users to purchase your product in a seamless, non-sales-y way.
How to Set Up Your TikTok Ad
Create a new campaign
Begin by creating the campaign under the "Campaigns" tab and clicking on the "Create" button.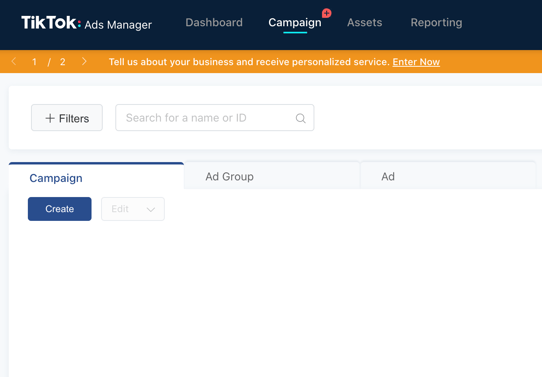 Doing so gives you the option to choose your campaign objective, which you should already know from your Campaign Goals brainstorming session. From driving traffic and conversions, to app installs, these are a few of the options you can choose from.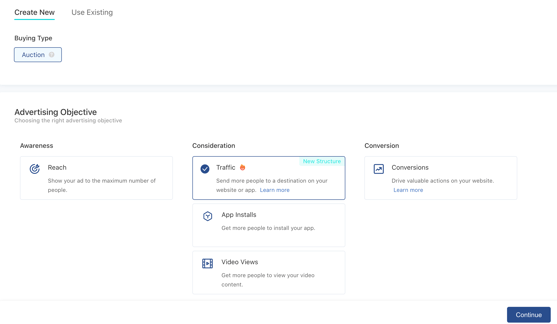 2. Determine Your Budget
After choosing your objective, give your campaign a name and set the minimum budget. You have the option to choose a daily budget to steadily reach your target audience or a lifetime budget to reach as many people as possible quickly. At the ad group level, your daily budget must exceed $20 and at the campaign level daily and total budgets must each exceed $50. You can also adjust your budget at anytime during the campaign.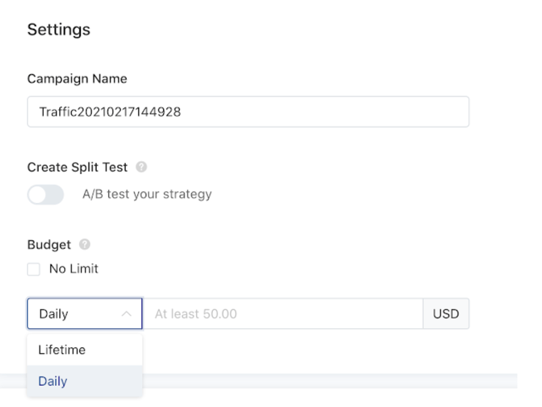 3. Choose your ad placement
Once you have finished the first step, you can create an ad group for your campaign. This step is where you decide on the placement of your ad. Essentially, this determines the appearance of your ad on TikTok.
You're able to choose between Automatic or manual, Select Placement. Automatic placement ensures that your ad appears on TikTok and its partner apps. If you don't want TikTok to pick your ad's placement for you, you can click the "Select Placement" option and manually choose which of the partner apps you want your ads to show up on.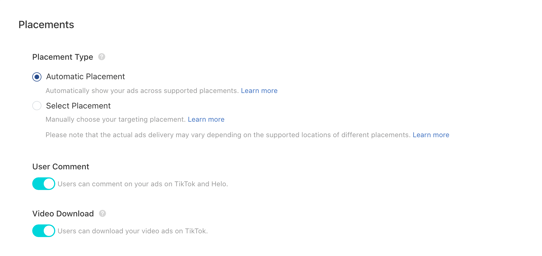 4. Pinpoint your Targeting
After that, you'll have the option to configure your targeting. You'll be able to target users based on their demographics such as gender, location, age group, language, interest and behavior.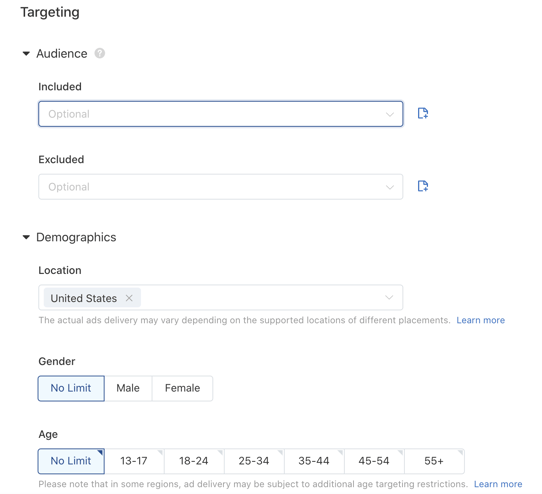 TikTok also allows you to create a custom audience group, giving you the ability to upload the IDs of users you want to target in a CSV, ZIP, or TXT file. You can also create custom audiences based on engagement, app activity and website traffic.
5. Create the ad
After completing the steps above, you can create your first ad. TikTok allows you to upload video or image files as your ad creative. To ensure that your ad looks great on TikTok and all of their partner platforms, make sure to follow the recommended ad specs.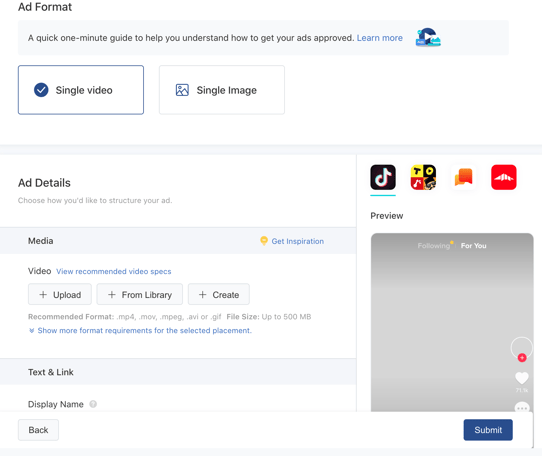 After drafting your ad, TikTok allows you to preview it and get a clear idea of how it'll appear to users. This feature is helpful, as it helps you figure out what tweaks the ad needs before you submit the ad for approval.
You'll want to name your ad so you can manage your different ad campaigns smoothly as well as enter ad text using 12-100 characters.
You'll have the option to choose between calls to action depending on what you want the user to do with your ad. Whether it is to "Sign Up", "Download Now", "Contact Us", or "Learn More," there are many options available to optimize your ad.
When you're done, you can click on "Submit" to finish creating your ad.
6. Study Your Ad's Analytics
After you launch your ad, you can track and measure its performance and effectiveness against the goals you've set. TikTok does a great job of providing you with analytics that make it clear just how well your ad is performing in terms of impressions, clicks, conversions and more. It also gives you the opportunity to test and compare the performance of different ad creative and placements to see what works best for your campaign goals.
Before you create your campaign, keep in mind that the best TikTok ads are those that don't feel like ads at all. Featuring TikTok creators and the content they create in your TikTok advertisements can help to social proof your brand, leverage their existing followers, add authenticity to your campaign and drive more sales. Utilizing TikTok influencers is an effective way to reach your target audience, whether you want to include them in your ad campaign or run an influencer marketing campaign on its own. Of course, finding the right TikTok influencers is easier said than done. If you want to learn more about how Statusphere can connect you with TikTok influencers with engaged following in your niche, contact our influencer marketing specialists to get started.